About
Storage Space options in apartment buildings and unit complexes are limited. Now The Storage Box offers a carspace storage cabinet that allows you to make the most of your basement , garage or apartment complex car space.
The Storage Box over bonnet storage cabinets are the perfect answer for the storage problem in apartment/unit complex buildings. By using the wasted space that sits above the bonnet of your car you can create storage space in your basement car space or garage, without losing any parking space.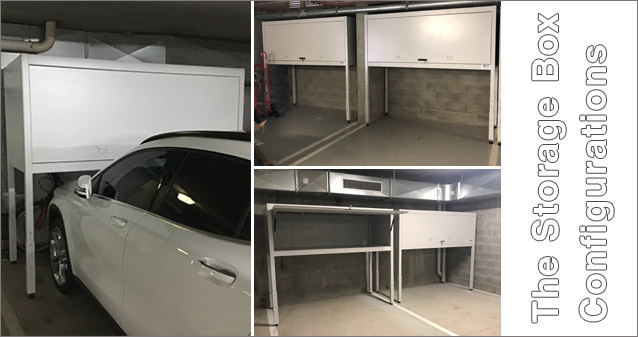 Our storage system has been designed to overcome an increasing problem facing apartment/units, builders and developers, space for additional storage. The storage box unit is placed at the head of a car space offering around 2.4 cubic meters of storage while still allowing the full use of the car space.
Over the bonnet storage cabinets can be used to store household items such as bicycles, BBQ, suitcases, golf clubs, sports gear, surfboards, tools, excess crockery, photos, records, electrical appliances – what you want to store is up to you!
The storage cabinet is manufactured to be completely sturdy, secure and safe with the opening gas strut door designed to give easy access.
As vehicle heights vary our storage box is 2350mm wide with adjustable heights from 950mm to 1320mm for bonnet clearance, or extra clearance to 1450mm by contacting us.
The Storage Box is now available in two sizes: The TSB2350 Storage Box – 2350mm wide x 1000mm deep x 1000mm high cabinet size, overall height of unit adjustable from 2000mm-2330mm and the the TSB2350S Storage Box – 2350mm wide, 1000mm deep but only 850 mm cabinet size height. This allows many car spaces with ducting-pipes-sprinkers to have the Unit and still leave clearances required. Also the slightly smaller Cabinet height of 850mm allows for larger SUVs such as Ford Ranger, Hilux, Amarok, GWM, etc. more bonnet clearance.
Our Over bonnet storage units are built tough and as a result each unit weighs around 165kg empty. Our Installers are available to take the hassle out getting your storage box assembled and ready.
Body Corporates can be confident the storage box cabinet offers the complete garage storage solution that can fit into most car spaces whilst maintaining a consistent appearance in the allocated car space area or garage.